What do you need when you hire a car in Uganda? A standard  4×4 vehicle to handle the roads and a reliable service in case anything goes wrong. Our car rental fleet in Uganda consists of the Toyota Hilux Double Cab and Toyota Land Cruiser, 4WD minibusses vehicles. We own all our vehicles and never subcontract from third parties.
Our safari vehicles have Game viewing pop up roofs for wildlife photography and game viewing, air conditioning,  and are so comfortable, with enough leg room, well maintained for African Roads and are driven by professional guides. Therefore, hiring a safari vehicle from us for your Uganda Safari tours guarantees a memorable safari while visiting Uganda.
Safe, secure, and practically unstoppable, our safari car experts guide will deliver you right into the heart of the safari experience.
4×4 SAFARI LAND CRUISER
The open side 4×4 Land Cruiser is ideal for wildlife photography and better views during the Safari. its suitable for 6 to 7 people traveling together.
They have a pop-up roof for game viewing and the side is not open but has glass windows to offer you the best views.
The pop-up roof is large and gives a 360-degree view of the environment thus, you can take photos standing or seated.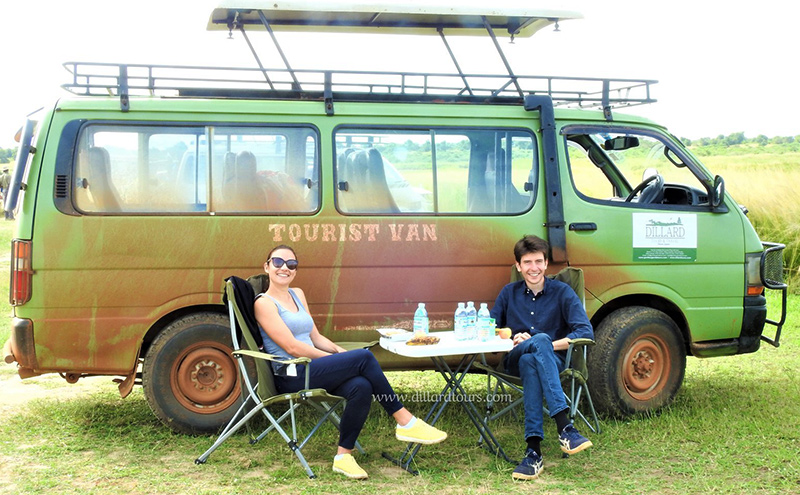 4×4 SAFARI VANS
At Dillard tours, we do hire out 4×4 safari vans per day to any destination in Uganda of easy game wildlife viewing, they have popup roofs. The game safari vehicles are very comfortable and have a full-time 4×4 wheel-drive system.  Safari vans are recommended for small safari groups of eight seat safari van
Let us know of your car hire interests, where you would wish to go and for how long and we will get you not only the best safari vehicle
Are you ready to book your safari Car